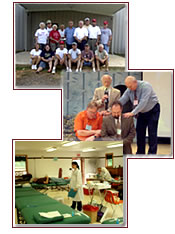 Thank you for visiting our secure online donations page. Your donation is greatly appreciated and will assist us in several areas of ministry. All donations are completed securely online through PayPal© and you will receive an email receipt of your donation for your records.





District Operations:
Donations to this area of ministry helps provide communication links between congregations and what's going on in the district. Your donation allows the district minister to work with congregations in pastoral placement. Your support also allows leadership development, christian education training, and provides congregational resources.

Disaster Fund:
Provides support for volunteers to travel to disaster sites and help to rebuild homes as a result of a disaster. It also helps to provide funds to buy supplies to help with disaster work.

Susquehanna Valley Ministry Center:
Funds for this help provide training for persons called to the "set apart" ministry.

Within the District Mission Project:
These funds are available through the Outreach and Service Team upon request to help provide pastoral support to congregations who meet the criteria and guidelines.





Disclaimer: All donations are completed secureley online through PayPal©. We will never sell our name or address list to anyone at any time for any purpose.